Solo Exhibition @ Spanierman Modern Miami
Solo Exhibition of Paintings by Louise P. Sloane - Title TBA opening at Spanierman Modern Miami, February 7, 2019.
---
RNOP Cincinnati New Work For A New System
Group Show Co - Curated by Jeffrey Cortland Jones (USA) & Billy Gruner (AU). Produced in association with West Projects, Australia; WEST PI & Assoc International: Divisible, Dayton Ohio; and the Biennale of Contemporary Non-Objective Art, Genoble France.
---
Spanierman Modern at The Seattle Art Fair Booth F29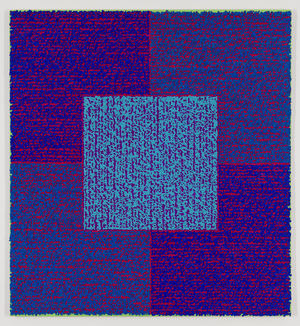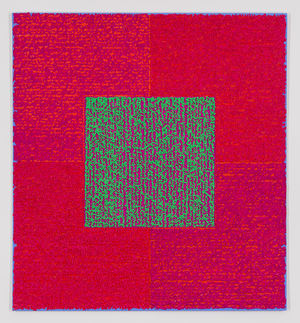 Seattle Art Fair
August 2-5, 2018
CenturyLink Field Event Center
Seattle, Washingington
The Seattle Art Fair is a one-of-a-kind destination for the best in modern and contemporary art and a showcase for the vibrant arts community of the Pacific Northwest. The fair brings together the region's strong collector base; local, national, and international galleries; area museums and institutions; and an array of innovative public programming.

Spanierman Modern Booth F29
www.spaniermanmodern.com
---
Geometric Memoirs A Selection of paintings by Louise P. Sloane at the Pierre Hotel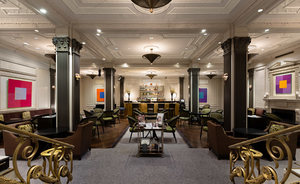 Louise P. Sloane: Geometric Memoirs at the Pierre Hotel, March 6-May 31, 2018
Spanierman Modern is very pleased to announce its first solo show of Louise P. Sloane. The show consists of a selection of Louise's brightly colored paintings. Each work is infused with highly personal text that inspires and motivates her to keep growing and experimenting.
Louise P. Sloane's paintings emanate from a long and rich tradition in art history. The visual language of her paintings embrace the legacy of reductive and minimalist ideologies while celebrating the beauty of color, and a human affinity for mark making.
In the second quarter of the nineteenth century, J.M.W. Turner pushed the limits of using dramatic color. In 1839, a French chemist named Michel Eugene Chevreul published his treatise on the vibrant interaction of the complementary pairings of color, which include, red-green, orange-blue and yellow-violet. Monet rejoiced in the complementary colors' tendency to reinforce one another, painting red poppies in green fields. It was in this vein that van Gogh, after painting The Night Cafe in Arles, explained to his brother Theo, "I tried to express the terrible passions of humanity by contrasts of red and green."
Georges Seurat evolved a system. An honorary founding father of Op Art, Seurat painted dots in colors he knew would dissolve, or 'optically mix' in the eyes of the beholder. The Fauves, and especially Matisse, took the next step, severing color's dependence upon nature. After World War II, the Abstract Expressionists liberated color once and for all from representation. Mark Rothko aspired to paint tragedy in brooding tones of purple. After ten intensive years of achievement, the works of Pollock, Rothko and de Kooning spoke for themselves.
Painters that came of age around 1960 were determined to go in an opposite direction. Some of these artists spoofed the new consumer culture, others ignored it. All of them responded to the arresting colors and hard edges of its graphic design. They accomplished this by employing all kinds of abstract forms and color contrasts that stimulated the partnership of eye and mind. Many artists experimented with one or more 'Op' techniques, as they came to be called, in exactly the same creative spirit that many twentieth-century painters and sculptors studied Cubism without a thought of becoming 'cubists'.
Louise P. Sloane joins the ranks of a small but mighty group of great artists including Ellsworth Kelly, Piet Mondrian, Mark Rothko, Richard Anuszkiewicz, Anton Albers and Barnett Newman. Like these monumental artists before her, she has dedicated her life's work to exploring the limitless possibilities of a single theme; an insistence on color
---
ART ON PAPER
Art On Paper 2018

March 8-11, 2018

Pier 36

New York City

Spanierman Modern Booth